pub night
bit of momentum happening with the alpha players joining. now that daylight savings is over it's a good time to bring sunday pub nights back. aiming for:
9pm (nz)
8pm (qld, nsw, vic)
6pm (wa)
site updates
you may have noticed these 3 things popping up in the right column: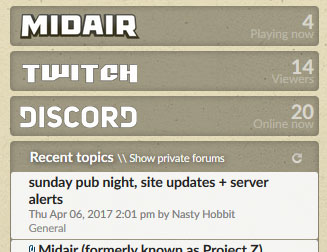 if someone is in the aus midair server it will say so there.
active twitch streams playing midair will also appear. it only shows one at a time and will prioritise official streams and then whatever the most recent one is. click on the menu item and the stream appears in an overlay. to view it in twitch.tv just click the twitch button in the player.
you can click the discord button in the right column to open a web version of bittah's discord (irc + mumble app). the button link is also the invite link which you'll need if you already have the desktop or mobile app.
server alerts
aside from the right menu showing when people are in the server, petty has also added a couple of nifty ways to get direct notifications.
discord bot
join the discord channel (click the discord thing in the right menu) and type: !notify aus 2
this will send you a pm when there are 2 people in the server. you can put in any number, it'll let you know (every 30 mins) when the server hits that number.

steam bot
send a friend request to 'Midair Bot' and it should auto-accept. then same as the discord bot, type: !notify aus 2

both bots work with any midair server so US/EU ppl can use it. currently only the aus server has the "aus" shortcut, for the rest you have to use the server name:
EU-Central General
US-Central Rabbit
US-Central Arena
US-Central LCTF
US-Central CTF
US-Central Arena/Rabbit/LCTF
eg: !notifcy EU-Central General 2
gw petty imo. both steam and discord have mobile apps, pro tip: open the app, then when your missus (or bf) is watching 'married at first sight' you can still get the notifications. then stand up tall, flip the coffee table over and say 'fck this, i'm playing midair'