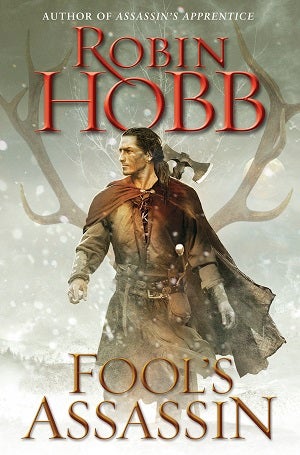 And as if to spite us all for asking her to write for a story she tied up in a little bow a decade ago, Robin Hobb, the undisputed Queen of Pain and Suffering for Protagonists, returns to her favourite torture toy Fitz in the long awaited Fools Assassin.
From here on in, if you haven't read any of Hobbs work, give yourself an upper cut then go read the Farseer Trilogy, the Liveship Trilogy and the Tawny Man Trilogy. In that order – Rain Wild Chronicles is optional (and fairly meh).
Those outliers aside, I know many of us here have avidly read and re-read the sage of FitzChivalry Farseer, and I'll say it now, if you read the final words of Fools Fate "I am content" and felt a measure of peace,
then do not read this book
. But you're still going to read it anyway because if you enjoyed them deep down you're a masochist.
Set years after Fools Fate, which wrapped up the series so beautifully, we are plunged into the "Happily Ever After" you always hear about in Fantasy not written by this sadistic woman or her psychotic pen pall GRRM.
Fitz is finally at peace with himself and the world - but the world doesn't stop spinning because you want to retire to the country and live out your days in peace and solitude with those you love.
Through the novel, the reader is given a sense of impending doom – and yet you can't help yourself and read on with a smile on your face anyway. If you're familiar with the books it's fairly easy to put the pieces of the puzzle together, as usual the excerpts from letters and books at the start of each chapter weave into the tapestry, giving us more insight than poor Fitz has. When the other shoe drops, there is almost a palpable sense of relief – there is no such thing as happily ever after, life goes on, and Fitz must once again return to his roots and take up the sword (or knives, poison and his bare hands).
The biggest deviation this time is the introduction of a completely new viewpoint, which actually compliments Fitz viewpoint perfectly. This was completely unexpected for me, and just when I thought I could put the book down the tantalising taste of seeing Fitz through eyes other than his own served to keep me up all night.
It's a stunning return to form for Hobb after the terrible Soldier Son and lacklustre Rain Wild Chronicles, setting the stage for the next two, but this book is most definitely written for those who know and love Fitz. On its own it won't stand, but again, if you've read the books and want more then this is for you.
You sick bastard.
***
Things I liked (not massive spoilers but really you should wait for it)
Spoiler: Show
The runaway skill healing turning Fitz into the fucking Wolverine, it was heartbreaking to put the pieces together than in twenty years Fitz hadn't aged a bit, while Molly became old enough to look like his mother with apparent early onset dementia.

Bee – fairly fucking obvious who she is and I for one wanted to punch Fitz for not seeing it, but hey, then man has some pretty fucking huge blind spots and through Bees eyes we see that.

Father Wolf.